---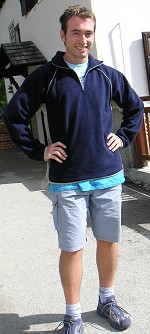 THIS IS GIG !
Here I am! I am 29 (I was born on April 17th, 1978) and I live in Scorze', not far from Venice. I studied at the scientific secondary school and I have a degree at the Computer-science university Ca'Foscari of Venice. I have always loved to draw and build since I was a child. Though I drew my first stripes when I was at the primary school, I made my first official comics for the journal of my school about 8 years ago: they are above all humorous comics (often ironic and biting, with very direct references to reality) at most of 4 sides, but I dealt with several genres: humorous, sentimental, science-fiction. They are a bit rough, but I think I can consider myself very satisfied with the result, as they have been apreciated very much. A few years ago I started drawing a comic based on the plot of a videogame that I couldn't make because of various reasons: the title is "Burning Flash", and it is a mix of SF and action: in any case I state that this work, though I have it very much at heart, serves as "training". Recently I have started working on 3D, above all because of my job.
I have a lot of dreams, which ones will I manage to reach? As soon as I brush one, I'll let you know how it tastes.
Giuliano
January 18 2008


---
THE PRIDE CORNER
November 30th, 1991: I won the first prize, a mountain-bike, making a still life (about 1M x 70cms) using a cardboard, glue and 2-3 kgs of multicoloured pasta (pasta to eat): the title of the work was "Composition of fruit", and I neither made it for the competition, but as summer homework!

November 1995: first prize for a short-cartoon 30 seconds long, entitled "Iguana Jones": I worked together with a group of 6 boys, and I made 8 of the 30 seconds of the cartoon.

June 1996: "Oscar for humour" + first prize, conquered through the realization of the iper-text "ERGO" (with the help of 2 friends, Stefano and Sandro): I planned the structure and made the illustrations.
---